Get ready to receive live expert trainings
that help you launch and scale your business online!
Learn expert strategies on sales, marketing, branding, social media, embodiment, community building, and join community led guest sessions!
Join live weekly sessions from expert coaches and access self-paced training content at any time.
The Academy is designed to help you achieve your first or next breakthrough in your business.
Connect with a Global Community of like-minded coaches, teachers, healers, and more.
Access priceless business resources and strategies that helped others launch and scale successfully.
Weekly LIVE Group Coaching Calls
Community Led Sessions
Expert Guest Speakers
Resource Library and Self-Paced Content
Active Community Groups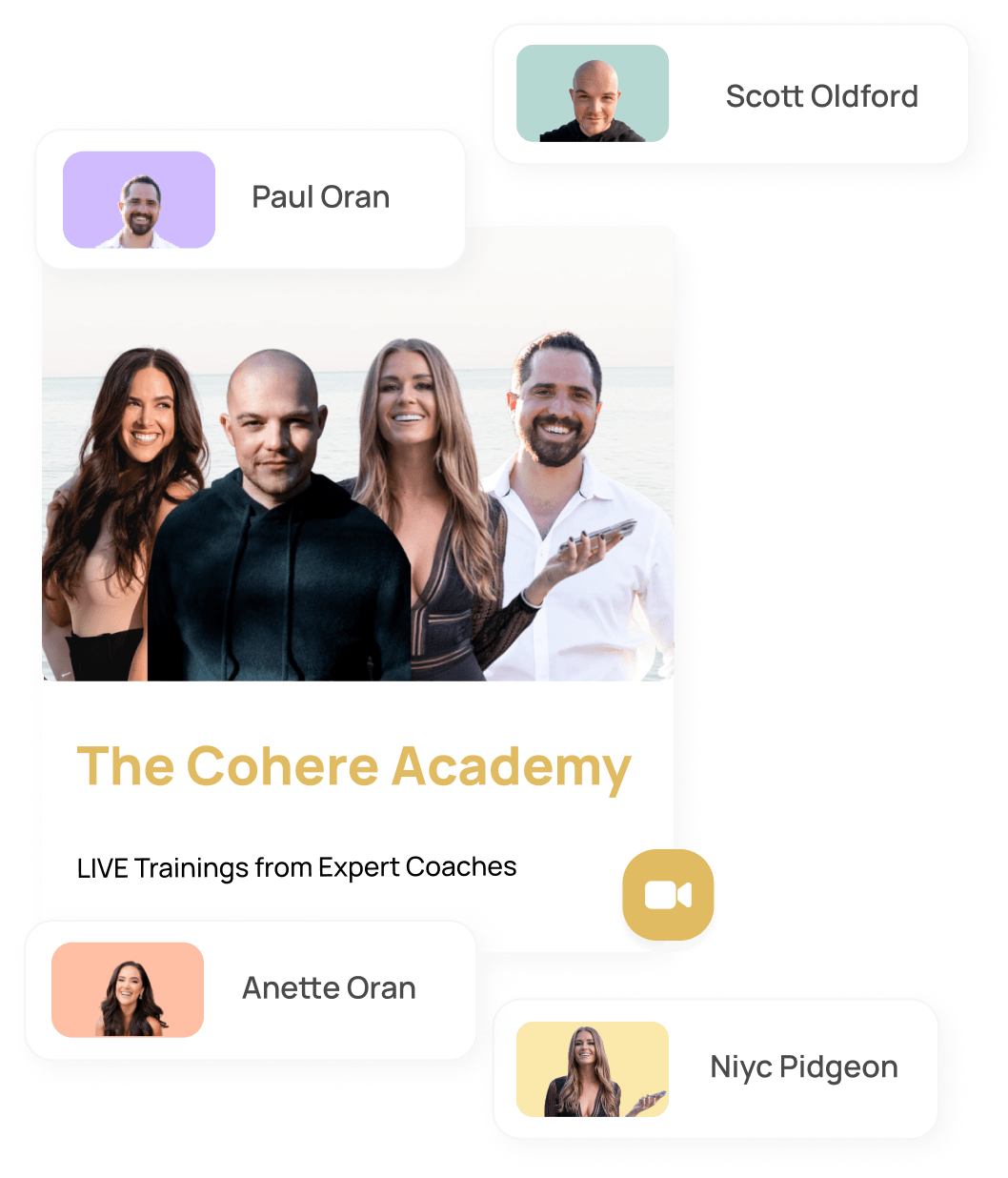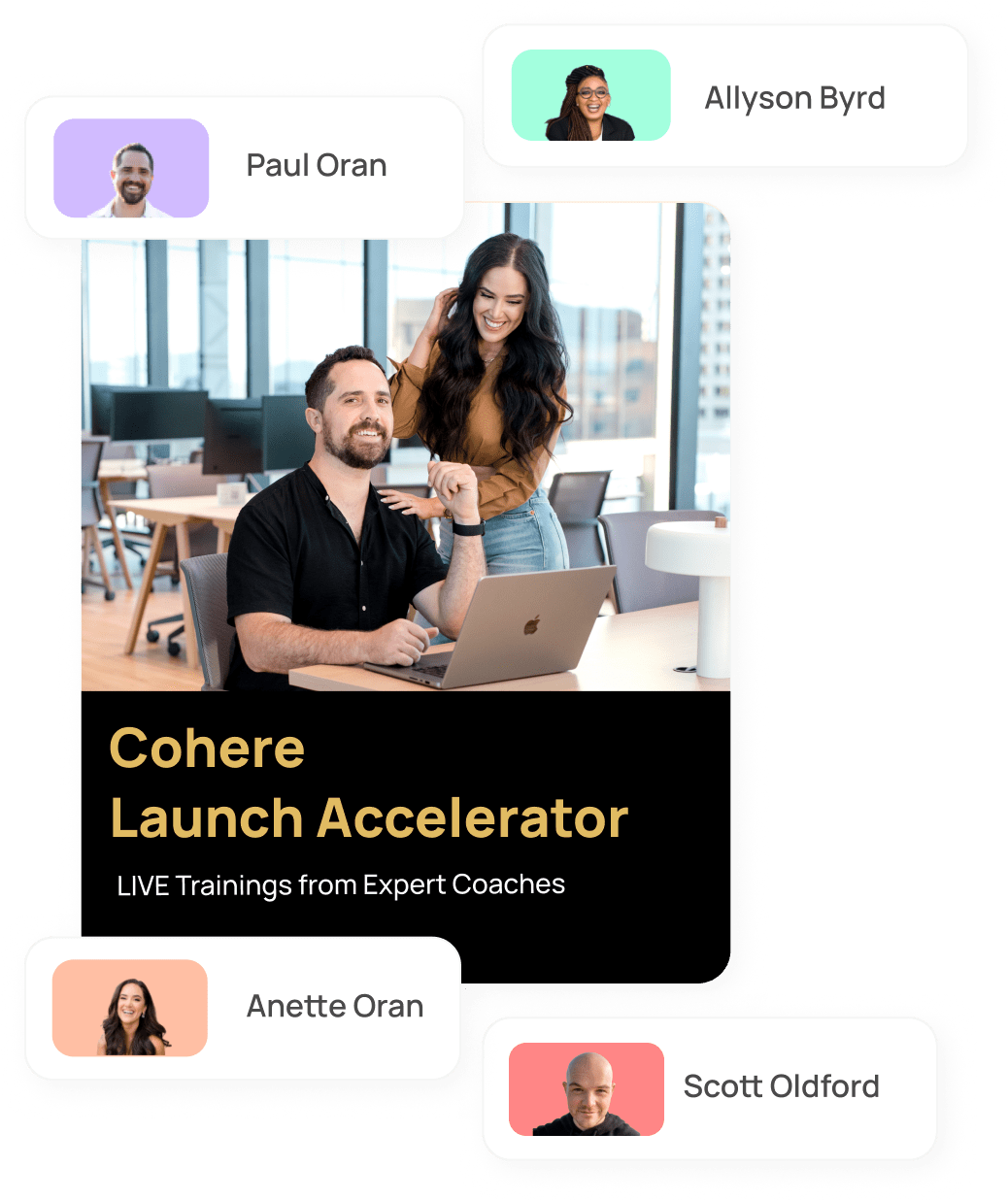 The Cohere Launch Accelerator
60-Day LIVE Program to Take You from Idea to Scalable Revenue
Designed to Bring You ROI on Your Subscription
Leverage Proven Launch Strategies and Roadmap
Expert Guest Ppeakers
Launch Your Offer Alongside an Empowering Community
The Cohere Collective

(Coming Soon)
Share your services in the Cohere Collective
Attract new clients
Expand your network
Learn from others in the community
Evolve and transform personally and professionally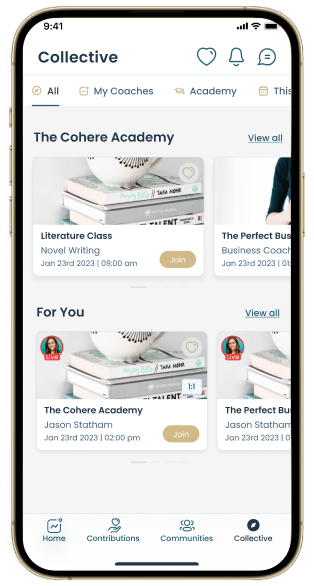 Included with Your Subscription
A complete platform to launch , sell, and deliver your services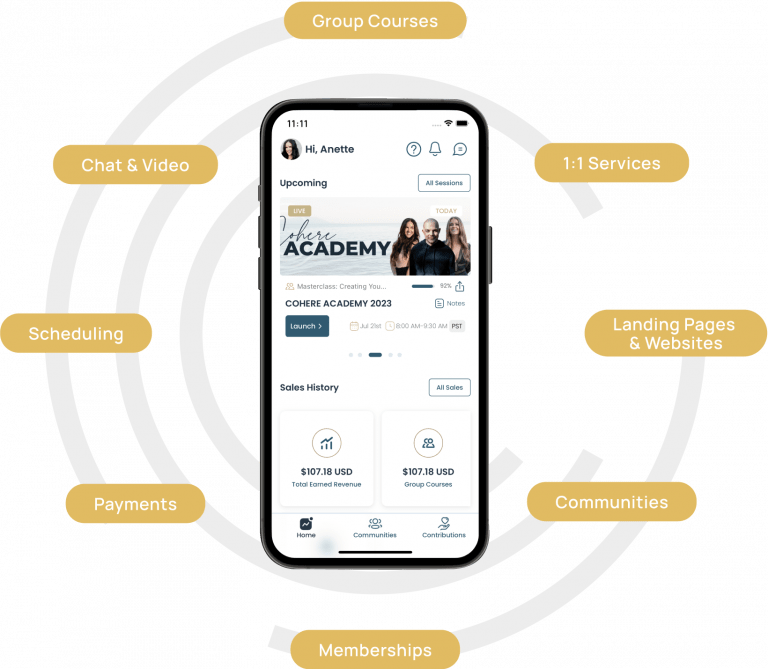 Join a Thriving community of heart-centered coaches, healers & online service providers making a huge impact on the world
How other community members are Cohere.....
Tracy Pruzan-Roy
The platform is so awesome, before I joined cohere I had my calendar in one place & my sign ups and billing in another spot. Now it's all in one place. It's so worth it, you will get so much out of it! I feel so lucky to be a part of it.
Watch Video
Amelia Fortes
The support from the community has made me feel like I'm not alone. I launched my membership and had 7 people sign up right away! I'm so blown away, the clarity and the focus that it's taken me to find, I've found in this group.
Watch Video
Danielle Pieser
Cohere is not just a scheduling platform, it also has become a place for me to go to workshops and go to spaces and places where I am coached by the top performers in the industry. Cohere has grown my heart, business and so much more - I couldn't recommend it more!
Watch Video
Lindsey DiFiore
Since joining Cohere, I've launched my mentorship and group program. The ease of using the platform is the best part! & if you ever have any questions as you're getting setup you have access to a Success Coach to help you get started. I couldn't recommend this platform enough! This is something that can really help you to make it easier.
Watch Video
Alan Luk
I was successfully able to launch my 6-week group program & I got to serve 20 students to allow them to access the Cohere platform to access recordings, worksheets and files. I'm so glad I joined the Cohere platform!
Watch Video
Azaria Glaim
Now that I am fully switched to Cohere, I am so happy & grateful I made that choice. It has allowed me to scale and streamline my business. Thank you Cohere for your amazing amazing platform.
Watch Video
What our
Customers

are Saying
How to Launch & Scale your Online Offers with Ease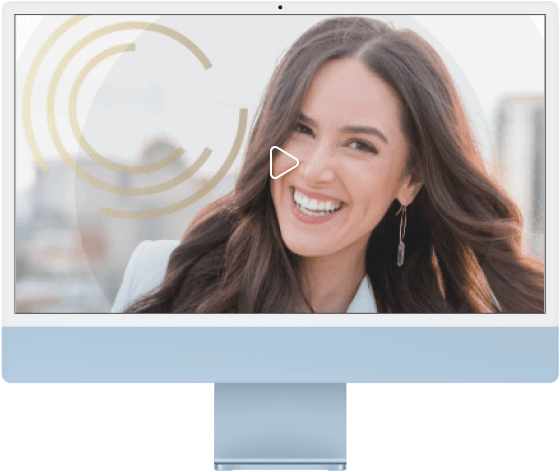 This video training + demo is 33min, and what you'll discover in it has the potential to make this your most profitable, successful year yet while bringing you closer to your business vision than ever before.